Your Mission Begins at The U.S. Space & Rocket Center
Apply Now
Walk beneath the colossal Saturn V rocket, land a shuttle orbiter, and jump to new heights on the 1/6th Gravity Chair. Space Camp is your opportunity to inspire the next generation of astronauts, scientists and explorers.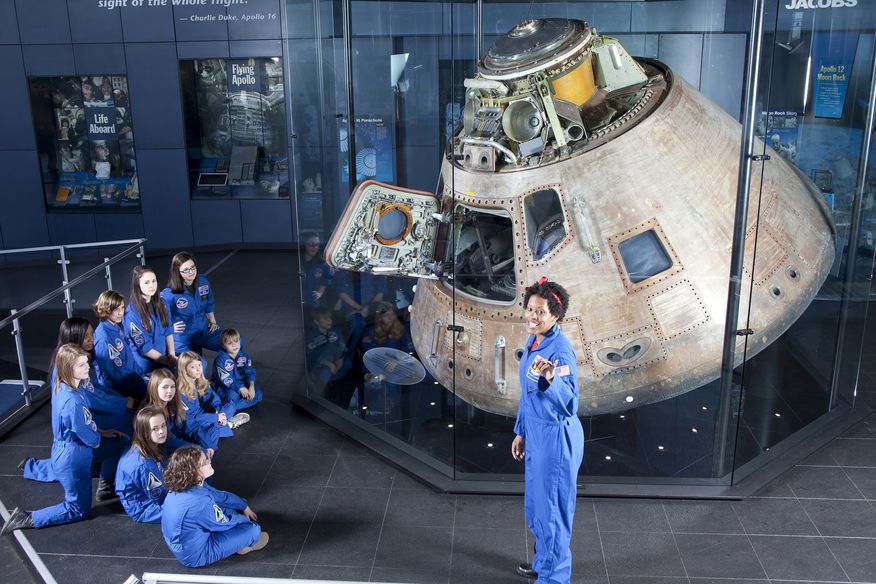 Home to Space Camp®, Aviation Challenge® Camp, and Robotics Camp the U.S. Space & Rocket Center (USSRC) is the largest spaceflight museum in the world. Its large rocket and space hardware collection is valued in the tens of millions of dollars. From America's first satellite, Explorer I, to next generation space vehicles like Sierra Nevada's Dream Chaser, the museum showcases the past, present and future of human spaceflight. The U.S. Space & Rocket Center serves as the Official NASA Visitor Center for Marshall Space Flight Center and is an affiliate of the Smithsonian Institution.

As a Camp Counselor (Crew Trainer), you will be immersed in a STEAM environment with astronauts, rockets, simulated space missions, robots, flight simulator and individuals who share your passion for exploration. This opportunity will be more than just a few lines on your resume – it's a community, a culture, an opportunity to inspire the Mars generation, and an out-of-this-world leadership experience. This immersive program places students in a real-world context allowing them to view math and science as something more than just an academic exercise – allowing them to recognize these subjects as tools to develop future careers as scientists, engineers, teachers, and astronauts. By combining cutting-edge technology with hands-on learning, SPACE CAMP, ROBOTICS CAMP and AVIATION CHALLENGE inspires young men and women to dream big and to work hard to make those dreams a reality.
---
Brief Job Description
Camp Counselors (Crew Trainers)
Will supervise and educate trainees (ages seven through to adults) in the history of the space, robotics and aviation program; assist in experiencing the sensations of space travel; and motivate, stimulate, teach and supervise trainees in a variety of aerospace related topics, including the Mission Center Complex, Aviation Challenge and Museum simulators.
• Conduct Space Shuttle, International Space Station, and military or high performance jet simulations training and insure that trainees are adequately instructed in mission simulation positions and understand their roles in the overall mission.
• Provide knowledgeable explanations about a variety of space, robotics and aviation related subjects and perform lectures/briefings as assigned.
• Ensure that trainees are adequately instructed in all program contents and activities to ensure a successful and enjoyable experience.
• Escort and accompany trainees at all times to scheduled activities, maintaining orderly behavior and a professional learning environment.
As a Camp Counselor, we'll make sure you receive the comprehensive training you require – 3 to 4 weeks, beginning with your own mini-camp experience! No previous space knowledge required. After your graduation from training, you'll get the opportunity to lead your own teams of campers. Here's your chance to influence and inspire the next generation of astronauts, scientists, and explorers.
---
Ideal Candidate
We prefer applicants be least 20 years of age (exemptions may be made based on leadership experience) and have completed at least 30 hours of college credit or applicable life/professional experience. Experience working with children (such as coaching, tutoring or teaching) is desired; and previous camping, military, space exploration, education or instructional work experience is a plus. Applicants must exhibit strong leadership skills and possess excellent communication skills to instruct and teach others.

Staff with open availability 6:00am -11pm Sunday through Saturday are preferred, you will not be working that entire time, but it gives our logistics staff the most flexibility when scheduling shifts. We also hire staff that can work the day shift Monday – Friday 6.00am till 3.00pm or night shift Sunday 12.30pm till 11pm and Monday – Thursday 2:30pm till 11pm.
---
Resident Advisors (RA)
Space Camp provides accommodations in our on-site Habitat facilities for approved camp staff who live more than 45 miles away from our campus, the resident application process will begin soon after a successful interview. In exchange for free room and board, we require our counselors to serve one week of "on call" duty on a rotational basis to assist trainees as needed. The shift is during the evening hours (10 p.m. – 6 a.m.). Due to the limited number of RA rooms we have onsite, you will need to plan on living with a roommate.
Huntsville is also listed as 1 of the top 10 most affordable cities in America, for those that choose not to live onsite we can help point you in the right direction.
---
Employee Perks
Perks include extensive paid training, paid time off, discounts throughout the U.S. Space and Rocket Center and free admission passes, discounts are also available through affiliated companies, such as discounts at the neighboring hotel and local fitness centers.
---
Getting Here and Getting Around
Huntsville (also fondly known as the Rocket City) is located in northern Alabama in the heart of the Tennessee Valley, less then two hours south of Nashville.
Huntsville has received many accolades that include most recently: one of the top ten places to live in the United States, one of the fastest growing metros in the country, and one of the country's top 10 cities for job growth and affordability. The U.S. Space and Rocket Center is also home of one of the Seven Wonders of America selected by ABC's Good Morning America, the Saturn V Rocket.
We can arrange for you to be picked up from our local airport, bus or train station.
---
How to Apply
The application process begins here where you will be directed to upload your resume and answer a questionnaire. If selected you will be contacted to set up an interview. Our team does interviews in person or through video conference (Skype, Facetime, Google Hangout, etc.). Plan on your interview lasting 30-45 minutes.
After your interview, our hiring team will contact you within 5-10 business days to update you on the status of your application.