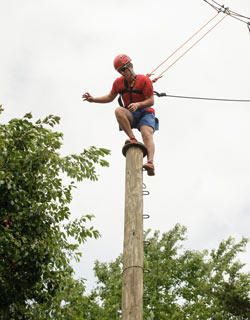 Custom crafted for students in grades 10 through 12, this brand new three-day, two-night program allows retreat participants to work in teams and develop critical life skills that are highly-valued in scholarship acquisition, college admission and ultimately in our global workforce.

During this amazing weekend experience, the Youth Leadership Retreat delivers a curriculum that is both educational and fun, with activities focused on the development of capacity in problem solving, purposeful communication, leadership initiative and increased self-confidence.
Experience communication and problem solving challenges
Enhance collaborative and team-building skills
Test skills in our Challenge Course team-building element and high- and low-ropes challenges

Participants navigate high rope elements, such as ascending the 35-foot pamper pole or scaling a 50-foot climbing wall, in our Area 51 Challenge Course. They also exercise critical thinking skills and problem solving while negotiating the low rope course led by crew trainers whose mission is to bring out the best in each participant!

Upon completion of the program, all Youth Leadership Retreat participants receive a Letter of Completion on U.S. Space & Rocket Center letterhead outlining the activities and leadership curriculum of the program.