Sun, 2018/02/18 -

9:00am

to

5:00pm
Your senses will soar as you enjoy an IMAX® movie in the U.S. Space & Rocket Center's 67-foot Spacedome Theater. This is Huntsville's only IMAX® dome screen and it fills your entire field of vision, surrounding you and your guests with the on-screen action!
---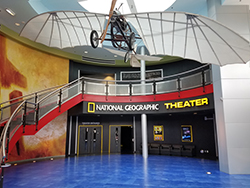 Quality educational documentaries presented in 3D with Xpand active 3D glasses on an impressive 52-foot screen.
---
No trip to the U.S. Space & Rocket Center is complete without enjoying a high-definition film in our Spacedome IMAX® or National Geographic Theater in the Davidson Center for Space Exploration. Space and aviation themed titles are featured daily and are included with a STARS Combo museum ticket or can be purchased separately.
Click here for movie listings, times, and ticketing.
Now Showing in IMAX:
Dream Big: Engineering Our World - Narrated by Academy Award® winner Jeff Bridges, Dream Big: Engineering Our World is a first of its kind film for IMAX® and giant screen theatres that will transform how we think about engineering. From the Great Wall of China and the world's tallest buildings, to underwater robots, solar cars and smart, sustainable cities, Dream Big celebrates the human ingenuity behind engineering marvels big and small, and reveals the heart that drives engineers to create better lives for people around the world.


A Beautiful Planet - A Beautiful Planet is an American documentary film that explores Earth by showing IMAX footage that was filmed over the course of fifteen months by astronauts aboard the International Space Station. The film also presents some of the astronauts' daily experiences, as well as their related observations and comments. A Beautiful Planet is narrated by the actress Jennifer Lawrence.

Now showing in National Geographic Theater:
Robots 3D - ROBOTS 3D is a sneak peek into the future at what might be possible as scientists use innovative engineering and design to make cyber characters less "humanoid" and more just plain human. Robot "actor" RoboThespian will introduce you to CHIMP, ATLAS, PR-2, Herb the Butler, ICUB, and others as he takes you on an amazing tour of what's going on in robotics labs around the world.


Space Next -The journey to reach the stars began with our earliest dreams of flying, and led to landing on the moon and sending a probe to Pluto. But that's only the beginning. Space Next offers a glimpse into tomorrow, and the possibilities of what is to come by way of private space developments and national space programs. The result is an immersive display of interplanetary excellence sure to inspire a generation of explorers, scientists, and dreamers. Come discover what's next.

Click here for movie listings, times, and ticketing.
To purchase a National Geographic Theater ticket only (without museum admission) please acquire your ticket at the main museum ticket desk 30 minutes prior to show time. National Geographic Theater ticket holders may access the theater through the Davidson Center entrance only. Museum access is not available for National Geographic Theater ticket only holders. If tickets are purchased online, please call 256-721-7198 before arrival to insure entrance into the Davidson Center.