8/21/17 -

9:00 AM

to

5:00 PM
Your senses will soar as you enjoy an IMAX® movie in the U.S. Space & Rocket Center's 67-foot Spacedome Theater. This is Huntsville's only IMAX® dome screen and it fills your entire field of vision, surrounding you and your guests with the on-screen action!
---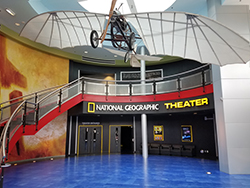 Quality educational documentaries presented in 3D with Xpand active 3D glasses on an impressive 52-foot screen.
---
No trip to the U.S. Space & Rocket Center is complete without enjoying a high-definition film in our Spacedome IMAX® or National Geographic Theater in the Davidson Center for Space Exploration. Space and aviation themed titles are featured daily and are included with a STARS Combo museum ticket or can be purchased separately.
Click here for movie listings, times, and ticketing.
Now Showing in IMAX:
Journey to Space -Narrated by Patrick Stewart. In the past half century, humans have punched through the stratosphere, walked on the moon, and lived continuously in orbit. In the coming decades, our unquenchable curiosity will take our species beyond the cradle of Earth to touch the face of another world. Strap in for the next giant leap. Next stop … Mars!

National Parks Adventure- National Parks Adventure takes audiences on the ultimate off-trail adventure into the nation's awe-inspiring great outdoors and untamed wilderness. Immersive IMAX® cinematography takes viewers soaring over red rock canyons, hurtling up craggy mountain peaks and into other-worldly realms found within America's most legendary outdoor playgrounds.

Now showing in National Geographic Theater:
Mission Control: The Unsung Heroes of Apollo - At the heart of the Apollo space program and a remarkable decade of achievement was the team who worked in Mission Control. They were born against a backdrop of economic turmoil and global conflict. Some came from a rural lifestyle, hardly changed from the 19th century. Others grew up in a gritty, blue-collar America of mines and smoke stacks. They ranged from kids straight out of college to those toughened by military service. But from such ordinary beginnings, an extraordinary team was born.


Robots 3D - ROBOTS 3D is a sneak peek into the future at what might be possible as scientists use innovative engineering and design to make cyber characters less "humanoid" and more just plain human. Robot "actor" RoboThespian will introduce you to CHIMP, ATLAS, PR-2, Herb the Butler, ICUB, and others as he takes you on an amazing tour of what's going on in robotics labs around the world.


Space Next -The journey to reach the stars began with our earliest dreams of flying, and led to landing on the moon and sending a probe to Pluto. But that's only the beginning. Space Next offers a glimpse into tomorrow, and the possibilities of what is to come by way of private space developments and national space programs. The result is an immersive display of interplanetary excellence sure to inspire a generation of explorers, scientists, and dreamers. Come discover what's next.

Click here for movie listings, times, and ticketing.
To purchase a National Geographic Theater ticket only (without museum admission) please acquire your ticket at the main museum ticket desk 30 minutes prior to show time. National Geographic Theater ticket holders may access the theater through the Davidson Center entrance only. Museum access is not available for National Geographic Theater ticket only holders. If tickets are purchased online, please call 256-721-7198 before arrival to insure entrance into the Davidson Center.