Plan an event that will give your guests memories for a lifetime! A Smithsonian Affiliate, the U.S. Space & Rocket Center (USSRC) houses the most complete collection of national treasures from space exploration on the planet. This exclusive venue offers a breathtaking backdrop that cannot be found anywhere else in the world! We welcome all types of events – both large and small – and our team of experienced professionals is ready to assist you in planning all of the details to make your visit a spectacular success.
Please call (256) 721-7183 or email spevents@spacecamp.com to get started! Early reservations are recommended, as facilities are booked on a first-come, first-served basis.
All wedding packages are priced individually and the facility fees below do not apply.
---
Saturn V Hall
The Saturn V: A National Historic Landmark
Reception Capacity: 1,000
Buffet Capacity: 800 - 1000
Full Service Capacity: 800 - 1,000
Saturn V Hall: $3,200
In the USSRC Saturn V Hall of the Davidson Center for Space Exploration, experience the mesmerizing opportunity to dine under an authentic Saturn V Apollo moon rocket – a National Historic Landmark! Surrounded by historic artifacts and interactive exhibits from space exploration, your guests enjoy the breathtaking ambiance as they dine beneath one of mankind's greatest scientific achievements.
---
---
National Geographic Theater
Capacity: 360
Price: $1,000
Keep your guests spellbound with our high-definition, 52-foot screen in the Digital Theater, located inside Saturn V Hall. Watch feature films, 3-D movies or any cable or private media presentation. This theater is perfect for formal seminars, business meetings or watching your favorite sports games!

---
Apollo Terrace
Capacity: 100
Price: $1,200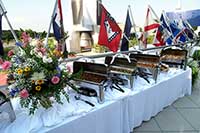 Just outside the doors of Saturn V Hall is the Apollo Terrace, featuring a stunning view of the vertical Saturn V and Apollo Courtyard. Enjoy intimate dining in the striking shadow of the largest rocket ever built.
---
---
Apollo Courtyard
Capacity: 200
Price: $1,200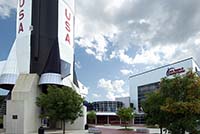 At the Apollo Courtyard you can enjoy your reception or picnic under the Saturn V moon rocket. Dine among the footprints of astronauts and tributes to their space missions and admire the collection of commemorative bricks honoring the innovative engineers and scientists who took us to the moon.

---
---
Main Exhibit Area
*Evening Functions Only
Capacity: 250
Price: $1,200
Main Exhibit/Mars Dining Room Combo: $2,000

Located at the heart of the U. S. Space & Rocket Center is the Main Exhibit Area, which lends itself to exciting receptions. The area offers a one-of-a-kind setting with historic space capsules. Hands-on-exhibits will entertain your guests as they land a space ship on the moon, dock with a satellite or use a robotic arm. There is no place like it on Earth!
(Capacity may vary depending upon traveling exhibits. Please see special events representative for more information.)
---
Shuttle Park
Reception Capacity: 1,000
Price: $1,200 (does not include rentals for tables, chairs and all set ups)

Dances and receptions are easily accommodated in the lovely outdoor setting of Shuttle Park, which features the only place in the world where you can stand under a "full stack" space shuttle – Pathfinder. Adjacent to Pathfinder is an authentic supersonic T-38 Talon – a training aircraft used by NASA astronauts to sharpen their piloting skills and get accustomed to the gravitational forces of liftoff and reentry into the Earth's atmosphere.
---
SpaceDome IMAX® Theater
IMAX® Theater Capacity: 250
Price: $1,000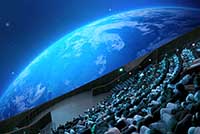 Your senses will soar watching an IMAX® movie in the U.S. Space & Rocket Center's SpaceDome Theater. The giant 67-foot screen fills your entire field of vision for an awe-inspiring experience.
---
Astrotrek Building
Buffet Dinner Capacity: 250 (seated)
Reception Capacity: 300
Price: $1,000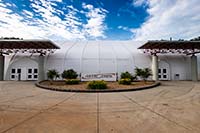 This large, futuristic building is located next to Shuttle Park, alongside the world's only full-scale space shuttle stack. The 4,600-square-foot indoor space-themed area is well-suited for receptions and family reunions. The cafeteria-style seating helps create the perfect picnic space. Our full-service catering staff can prepare customized meals for your event, or for more relaxed functions, vending and drink machines are available.

---
Educator Training Facility
Main Classroom Capacity: 70 (classroom style)
Main Classroom Price: $450 per day
Auditorium Capacity: 128
Auditorium Price: $500 per day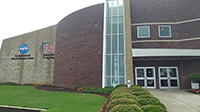 The Educator Training Facility offers a classroom-style room as well as a larger, stadium-seating auditorium for presentations. Both state-of-the-art facilities are equipped with LCD projectors and drop-down screens. For larger groups, the two rooms are separated by a movable wall which may be retracted to add 70 fixed-seats to the back of the auditorium. The ETF is perfect for corporate meetings, conferences, receptions, breakfasts and luncheons.
---